BACKGROUND, JAPANESE CHARACTERS
FOR THE FOUR SEASONS...
~~~~~~~~~~NOW PLAYING~~~~~~~~~~
"Chant de Toshima"
(Japanese Folk Song)
ALL PAGES ARE GRAPHIC INTENSIVE
THANKING YOU IN ADVANCE FOR YOUR PATIENCE.
Chuck
~~~~~~ACKNOWLEDGMENTS~~~~~~
Lt JG Medical Officer USNR Doc Carl Baker 7-10-1946.
A BIG BRAVO ZULU TO DOC BAKER
for sending pictures.
"Thanks for the memories Doc"
A big "THANK YOU" to Jack Hammond (TT Historian & Treasurer)
for spending many hours working on the pictures.
The pictures were sent to Jack Hammond by Carl Baker
Jack scanned them and sent a CD, I copied the pictures
off of the CD and posted them on the TT website.
---
"THREE IMAGES LOADING BELOW"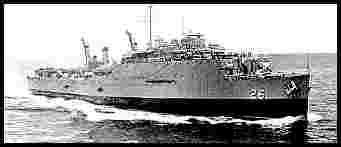 (1946)
Kamakura, Japan Great Buddha Daibutsu 700 yrs old
Guiuan, Philippines Church (5-28-46)
Kamakura, Japan yard of shinto shrine (6-26-46)
Shinto Shrine (1946)

PLEASE CLICK ON SMALL DRAGON
TO GO TO NEXT PAGE